COMPETITION III - GERMANY
Art Visuals & Poetry Film Festival 2019
Hauptpreis deutschsprachiger Raum/Award German Speaking Countries


Facebook
---
Main jury prize, Competition III, Sunday, 1. Dezember  2019  20:00 Uhr
Metro Kinokulturhaus, main hall, afterwards award ceremony, award ceremony, moderation: Yasmin Hafedh
The winning films will be shown again.
The Art Visuals & Poetry Film Festival has launched a poetry film competition in German-speaking countries. The third block of the main competition is dedicated to Germany. Then the award ceremony follows. Four prizes will be awarded: the main prize, the Special Award for the best poetry adaptation, the local Hubert Sielecki Prize and the International Audience Award. All winning films will be shown again during the award ceremony.
UND DIE WELT DREHT SICH

Deutschland 2018 | 03:51 min
Director: Rain Kencana
Text: Jinn Pogy,  OF German with English subtitles
A girl reflects on the background of her father's alcoholism, while narrated past, present and future interlock into a single timeline.
Rain Kencana born in 1974 in Jakarta, Indonesia. At the age of 5, she moved to Berlin with her mother and studied digital production at the Film University HFF. Since then she has finished producing dozens of music videos. In 2006, she released her first feature documentary on dance titled "Full Of Fire".
WENN SICH ZWEI STREITEN

Deutschland 2019 | 06:02 Min.
Director: Sabrina Kollmann
Text: Filomena Franke     OF German

Daydreaming, desiring, planning, remembering ... most of the day we spend not in the present, but somewhere between the future and the past. "If Two Quarrel" is the filming of a wonderful slam poem on exactly this topic, written by the slam poet Filomena Franke and filmed with mother and daughter Kirsten and Nina Benekam in the lead roles.
Sabrina Kollmann from the beautiful Chiemgau finds, language is the door to the world - and used properly, it can also be great cinema. In addition to Italian and English, the foreign language correspondent also loves the German language - especially in such polished form as in slam poetry. She is currently doing an internship at a marketing agency and is dreaming of a long future in the film industry. This is her first short feature film.
DICHTER IM STADTPARK

Deutschland 2019 | 01:50 Min.
Director: Thomas Glatz
Text: Thomas Glatz (OF German)
A Lyrical I observes busts of poets in a park and imagines how beautiful it would be to have written all his poems as an author and to have been canonized, in order to be able to stand around as a fountain figure in a subtropical park contemplative and idle.

Thomas Glatz, born 1970 studied social work in Landshut and Bamberg, as well as fine arts at the art academies in Munich and Helsinki. He works as an artist in various fields such as radio play, picture joke, conceptual art, poetry and literature. Thomas Glatz is the director of the "Archive for Use and User Texts" and organizes the literary event "Salzstangensalon" in Munich with Andreas Heckmann and Anna Serafin. Many of his books have been published by Black Ink. He lives in Munich . www.thomas-glatz.de
LEXUS

Deutschland 2019 | 07:00 Min.
Director: Sascha Conrad
Text:  Grigory Semenchuk (OF Russian/German with English subtitles)
"You follow the tire tracks, hear voices, are you sure you're okay? A wild hollyhock asks." The spirit of spring runs through the woods. Will she find who she is looking for? "A wild cruise on a winter's night, based on a poem by the Ukrainian poet and cultural activist Grigory Semenchuk.
Sascha Conrad, Music video Citizen Lars Dietrich - TV Show 2015 Idea / Director: Music video Rotz'N'Roll Radio (Kai Lüftner) - Partypiepel.Music video Some Poetries - Change Commercial Cinema MDR SPUTNIK, Director / Editing: Music video Rotz'N ' Roll Radio (Kai Lüftner) - Miep, Music video The Playfords - Oh how fleeting, oh how vain, Poetry movie Lexus with Ulrike Almut Sandig & Grigory Semenchuk, Poetry film landscape with Ulrike Almut Sandig & Grigory Semenchuk
Grigory Semenchuk (1991) is a Ukrainian poet, musician and cultural activist. In Lviv (West Ukraine), where he lives, he has directed several international literature festivals. The albums of his band duo DRUMTYATR with the writer Yurko Izdryk and his hip-hop solo project BRAT are highly praised in Ukraine. Semenchuk is the author of two volumes of poetry, some of his poems have been translated into numerous languages, in German-speaking countries they are published on www.lyrikline.org and in the Yearbook of Lyrics 2017 (Schöffling-Verlag). Since 2015, he has been working with the German writer Ulrike Almut Sandig under the name LANDSCHAFT, which in addition to literary concerts also develops poetry film clips to discover the contact points between poetry and poetry, music clips and poetry film.
trockenzeit

Deutschland 2019 | 08:00 Min.
Director: Katia Sophie Ditzler
Text:  Katia Sophie Ditzler (OF German with English subtitles)

After "Rainy Season", "Dry Spell" is Indonesia's second performance poetry film about personal disasters, volcanic eruptions, cows, IUDs, cosmetic surgery and betrayal. Katia Sophia Ditzler wears the headdress of the hero Arjuna used in the traditional Javanese theater and plays with identities, loss and the balancing act between strangeness and independence.

Katia Sophia Ditzler, * 1992, studied Literary Writing, Music, Ethnology and Shadowpuppet Theater in Leipzig, Kiev, Moscow, Berlin and Yogyakarta. Published in magazines and anthologies, as well as works for radio. Her video works have been shown at various festivals. Active at the interface of literature, music, video and performance. After an internship at the Virtual Reality Cinema and a residence at the Theater Research Institute, both Melbourne, she now lives and works in Berlin.
UNWEIT

Deutschland 2012 | 07:00 Min.
Director: Eric Gand
Text:  Rodja Weigand, OF German
A man goes through the text of the poem on the basis of moving images.
Eric Gand, born in Munich in 1945. Lives in Schwifting near Landsberg. Since 1977 photo collages and photos. From 1987 pictures, sculptures and installations for the first time also the filmic work Gands with a video for the poem "not far" by Rodja Weigand, which won first prize in the Poetry Competition "Goethe goes Video" in Munich in 2012. Several cinematic works followed.
PAO PAE

Deutschland 2018| 04:03 Min.
Director: Bruno Quast
Text: Bruno Quast, OF English
An old memory, in search of tranquility, sails through the landscape of its forms: all the shapes it has received in recent years, folded into waves, spoons, ropes or flags.
Bruno Quast, born 1994 in Heidelberg, studied classical piano and media art in Italy. Nowadays he is based in Tallinn, Estonia, to take part in a masters course under Priit Pärn in animation. He deals with 3D animation, sound recordings and sound design.
IN DEN NACHRICHTEN, 12. SEPTEMBER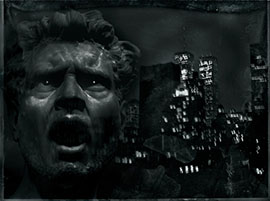 Deutschland 2018| 03:00 Min.
Director: L. W. Antonius
Text: Ralph Grüneberger, OF German
A reflection upon the aftermath of 11.9.2001 NYC
H.W. Antonius, born in 1961 in Berlin, grew up in NYC and Metz. Autodidact. Painting and Photodesign: Photographer for Cosmopolitan, Lui, Zoom u.a. Initiator / Curator: "Digidata, the long night of short films" Film Festival in Berlin and Hamburg. Movie videos Trailer u.a. for the "Berlin Asian Pacific Film Festival.Prizes of many competitions and tenders: Panasonic, German photo Oskar 2013, exhibitions and publications in Sydney, Oskar NYC, Berlin Stuttgart u.a.
dagewesenes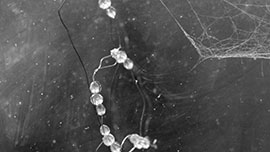 Deutschland 2019| 03:00 Min.
Director: Inka Perl
Text:  Nadja Küchenmeister, OF German
The animation transforms the moods of two poems by Nadja Küchenmeister ("I am light" and "Rauperich"). In the text mental images are created, inner monologues correspond with concrete stills of the outside world, contrasts are described, questions are asked. Associatively, the single-image animation consisting of photographs tries to capture the confused world of feeling in its black-and-white aesthetics without illustrating it.
Inka Perl, Video, object and concept artist, born. 1974 in Leipzig, graduated in 2002 in media art at the Leipzig Academy of Visual Arts. She lives and works in Leipzig. Her work is characterized by the two- and three-dimensional engagement with the object and its implementation in moving images and installations in the context of a historical and / or intellectual background. The animation "dagewesenes" was created for poems by Nadja Küchenmeister at the Leipzig Book Fair 2019 as part of the German-Czech poetry workshop "VERSschmuggel".
KLASSIKER IN DREI MINUTEN

Deutschland 2018 | 11:11 Min.
Director: Carolin Schattenkirchner
Text:  Helge Thun, OF German

Three love stories of world literature as short rhymed animated films, located between shrewd, witty and Wikipedia. Here, the classic education is made quickly and refreshed with a great dose of humor ... in some cases maybe even justified.
Carolin Schattenkirchner was the best of the class by the 5th grade, shortly thereafter bassist of the punk and hardcore band 'Sharon Tates Children', Stuttgart's hostess of the 'Casino' for 7 years, wandered through the Himalaya mountains with her double bass for 6 weeks and now lives as Cartoonist in Tübingen . https://www.trickfilmklassiker.com/
ORDNUNG IST CHAOS

Deutschland 2019 | 01:30 Min.
Director: Kuesti Fraun
Text:  Sarah Thöle, OF German, internationally comprehensible

An anagram poem
Kuesti Fraun lives and works as a freelance author producer and filmmaker in Düsseldorf, and has been represented worldwide since 1999 at festivals, on radio as well as exhibition, art and film presentations (eg Louvre Museum Paris, Marler Video Art Award, File Electronic Language International Festival Sao Paulo, Athens Digital Festival , Museum of the Moving Image New York, NASA, International Short Film Festival Berlin, Deutschlandradio Kultur and much more.) More and regularly updated information is available www.facebook.com/mobtik
Sarah Thöle, * 1984, Media artist with a Diploma (HFG Karlsruhe), freelance, works in her acoustic works with the intertwining of real environments, fictional narratives and musical elements, thus making it possible for her listeners to perceive their familiar world from a new perspective. www.sarah-thoele.de
moments

Deutschland 2019 | 06:18 Min.
Director: Susanne Wiegner
Robert Lax, OF English

The film is based on a poem by Robert Lax, one of the most important representatives of minimal poetry and visualizes the typical vertical typeface. The camera orbits in meditative imagery of a very ordinary moment in the city, it could be the waiting for the next bus. Moments that we barely notice, as we bridge this time automatically by looking at our smartphone.
Susanne Wiegner studied architecture and interior design at the Academy of Fine Arts in Munich and at the Pratt Institute in New York. In addition to projects in real space, she has been creating 3D animations for several years that combine literature and virtual space. Her works are shown in group exhibitions and at international festivals. She works and lives in Munich. www.susannewiegner.de
DÜNENMEER/ SEA OF DUNES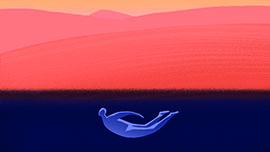 Deutschland/Ägypten 2019 | 03:00 Min.
Director: Nissmah Roshdy
Text: Mario Osterland, OF German with English subtitles
Nissmah Roshdy is a 2D entertainer based in Cairo. With a BA in Media Design, she has worked in both advertising and educational media. Nissmah is often inspired. Based on poetry she has directed and produced several poetry films. Her debut film "The Dice Player" participated in several film festivals and received several awards.
Mario Osterland, born 1986 in Mühlhausen / Thuringia, lives in Erfurt. He studied German, Comparative and Art History at the University of Leipzig. He curates the independent reading series "In Good Neighborhood" (Jena / Weimar / Erfurt) and is the presenter of the literary program "Bluebeard & Ginster" on Radio OKJ. Recently appeared: native species. (parasite press, Cologne 2017).
Tickets can be ordered via the ticket service of the Metro Kinokulturhaus. Phone +43 1 512 18 03 MO-FR from 17: 00-21: 00 Sat / Sun from 15: 00-21: 00 - after the 3rd of October 2019 daily from 14: 00-21: 00 or mailto:reservierung@filmarchiv.at. Reduced tickets for students, apprentices and students 5 Euro. Normal ticket price 8.5 euros. All other discounts of the Metro Kino Kulturhaus apply.