COMPETITION I - TRAVEL DOCUMENTARIES
Art Visuals & Poetry Film Festival 2019
Main Award German Speaking Countries
Facebook
---
Friday, November 29, 2019  21:30
Main Award  - Competition I, Metro Kinokulturhaus, main hall, moderation Yasmin Hafedh
The Art Visuals & Poetry Film Festival has launched a poetry film competition dedicated to German-speaking countries.The first of 3 competition screenings is dedicated to travel documentaries. You can watch short films, that take us to Germany, Georgia, Mexico, Spain and Egypt.
Competition I - about travelling - documentaries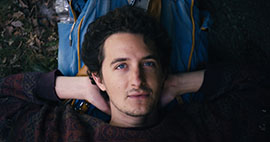 DER WANDERER
Germany 2017 | 07:20 min
Director: Anatol Schuster
Poems: Der Wandrer (Goethe),  Ludwig Tieck "wandern"
Hölderlin, international screening version
A young man wanders across Germany to meet his daughter. A contemplative journey and reflection on the state of the country. Inspired by paintings by Caspar David Friedrich and poems by Friedrich Hölderlin, among others, the film follows the traces of Romanticism, which are expressed by contemporary pictures and cello compositions.
Anatol Schuster was born in Darmstadt in 1985. He studied literature and philosophy in Regensburg and Avignon. During his directing studies at the HFF Munich he made several experimental short films and worked as assistant director for Edgar Reitz. He has received numerous awards. In 2017 he received the Wim Wenders Scholarship for his planned second feature film STILLE. But first the tragicomedy FRAU STERN is created in 2018. The portrait of the 90-year-old Jewish woman premiered at the Max Ophüls Preis film festival and was awarded Best Feature Film at the achtung berlin - new berlin film award film festival, the VdFK jury prize and a prize for the two leading actresses.
Austria 2018 | 14:25 min
Director: Melanie Ludwig
Text: Melanie Ludwig, German with English subtitles
 
A travel diary from the year 1953 and a photo album influence an old person to indulge in memories. But these are already fragmentary and so experiences mix with fantasy and speculation.

Melanie Ludwig was born in Linz in 1985 and studied fine arts/painting at the University of Art and Industrial Design in Linz. In addition to painting, working with animation and experimental film also became an important means of artistic expression for her.
LO QUE QUEDÒ GUARDADO - WAS UNAUSGESPROCHEN BLIEB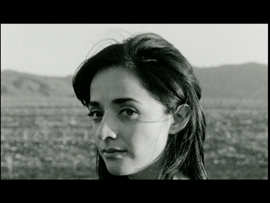 Austria 2010 | 13:00 Min.
Director: Bernhard Hetzenauer
Text: Bernhard Hetzenauer/Anna Serrano, Spanish with English subtitles
The filmmaker accompanies the 25-year-old Mexican actress Ana Serrano through a process of self-discovery. In a poetic way, the film shows the painful loss of a loved one and the search for a way to deal with this loss.
Bernhard Hetzenauer was born in Innsbruck. Diploma in Stage and Film Design, University of Applied Arts Vienna. Documentary class, Universidad del Cine Buenos Aires. Postgraduate studies in film at the University of Fine Arts Hamburg, Master of Fine Arts with Pepe Danquart and Wim Wenders. Director and camera man of several short feature films. Photographic and video works. Participation in exhibitions. During longer stays in Argentina, Ecuador and Mexico he made several documentaries. Hetzenauer also completed training in Systemic Therapy in Quito and Buenos Aires. From 2010-2012 Bernhard Hetzenauer was a DAAD scholarship holder.
Germany/Georgia 2019| 28:49 Min.

Directors: Klaus Erika Dietl, Stephanie Müller
Text: Klaus Erika Dietl, Stephanie Müller, German with English subtitles
A bombed out cinema in the heart of Zemo Nikozi, a small Georgian village, presents with a rich harvest. The last film was screened on 08.08.08. Then the war between Russia and Georgia broke out. The people had to leave their houses and could only hope, that their beloved cows would survive. For a decade nobody dared touch the broken violet-blue cinema seats. Today there are no longer public screenings in Zemo Nikozi.
Klaus Erika Dietl and Stephanie Müller bring together the visual arts, performance, film, social sciences and music. The two see their MEDIENDIENST LEISTUNGSHÖLLE as a nomadic collaborative play and workshop. In exchange with artist colleagues*, scientists* and social projects, they question fears of contact, the ambiguity of bourgeois moral concepts and the own failures.
Germany/Egypt 2019| 03:50 Min.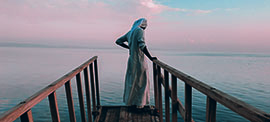 Director: Ahmed Hamed, Ägypten
Poem: Özlem Özgül Dündar, Germany, German with English subtitles
Our place is on fire and we are in flames with it. When what we are is no more, begins an eternal quest - who we are, where we stand and where we should go.
Ahmed Hamed is an Egyptian filmmaker. After graduating from Helwan University in Egypt with a BA in Theatre Studies, he completed a course in Film Art at the Institute of Film Art in Egypt and in 2017 completed a course in Documentary Direction at the Stockholm Academy of Dramatic Arts in Sweden and then began an internship at the FID Festival International De Cinema Marseille, France.
Özlem Özgül Dündar, born in Solingen in 1983, lives in Leipzig and Solingen, studied literature and philosophy in Wuppertal and then at the German Literature Institute in Leipzig. She works as a translator and editor. In 2018 she was awarded the KELAG Prize in Klagenfurt. Her volume of poems "gedanken zerren" was published by Elif Verlag in 2018.
Tickets can be ordered via the ticket service of the Metro Kinokulturhaus. Phone +43 1 512 18 03 daily from 14:00–21:00. or via e-mail.  mailto:reservierung@filmarchiv.at. Reduced ticket special for school boys/apprentices/students 5 Euro. Normal ticket price 8,5 Euro. All other ticket reductions of the Metro Kino Kulturhauses are applicable.