INTERNATIONAL AUDIENCE AWARD
International Poetry shorts - Audience Award


Facebook
---
Saturday, November  30, 2019  21:30
International competion, Audience Award, Metro Kinokulturhaus, main hall,  moderation Yasmin Hafedh (bilingual English/German)
FILM TALK: Aline Helmcke, director Poetry Film Award Weimar
This international poetry film program includes films, which have been submitted to the Art Visuals & Poetry Film Festival 2019. It´s a selection called Director´s Choice  including the two winning films of the Poetry Film Award Weimar 2019. For the first time the audience award of the Vienna Poetry Film Festival will be donated to an international poetry film out of competition. With this step we acknowledge the significant influence of the international poetry film scene on the quality of the Art Visuals & Poetry Film Festival in the past years. The winning film will be chosen by live votings through the Viennese audience at Metro Kinokulturhaus and the film maker will receive a cash prize donated by the festival. Come to us and vote for your favorite!
Film language:  English or English subtitles, moderation bi-lingual English/German

SOHRAB AND RUSTUM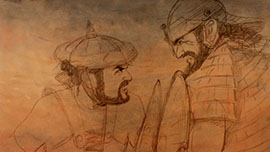 Australien 2018 | 13:36 min.
Director: Lee Whitmore
Poet: Lee Whitmore
Language: English
Sohrab and Rustum is the story of a young English teacher reading a poem to a class of teenage girls in 1960s Sydney. Through the poem, the girls are transported to ancient Persia where they witness a legendary fight between two warriors. The girls are confronted with the reality of death.
Lee Whitmore is an independent Australian film maker who has written, directed and animated five autobiographical films: Ned Wethered (1984), On a Full Moon (1997), Ada (2002), The Safe House (2006) and Sohrab and Rustum (2018). Lee uses hand-drawn techniques, such as paint on glass, watercolour and line drawing, to explore themes of memory, family and childhood. Her work has been shown around the world, and has won numerous awards, including at the Sydney Film Festival Yoram Gross Award (2006 and 2019), Annecy International Animation Film Festival (1997) and Hiroshima International Film Festival (1998).
A CONCRETE SONG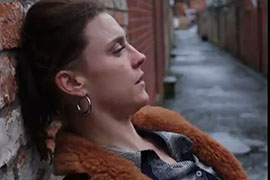 Ireland 2018 | 2:30 min
Director: Dave Tynan
Poet: Oona Doherty
Language: English
A new short film collaboration between director Dave Tynan and choreographer Oona Doherty Filmed in Belfast, A Concrete Song is born of the original poem by Oona Doherty which has inspired her Hard to be Soft performance series.
Dave Tynan is a writer/director from Dublin. He attended the National Film School at IADT and the MA in Filmmaking in Goldsmiths. In 2013 he won the Kinsale Shark for Most Promising Irish Director. His Film Board Rockmount has won the 2015 IFTA for Best Short Film, and numerous other awards. It was also chosen for the Nuits En Or tour run by the Académie des Arts et Techniques du Cinéma. http://davetynanfilm.com
WORK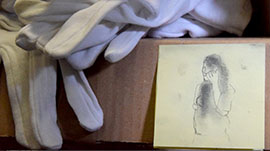 England 2018 | 2:25 min.
Director: Kate Sweeney
Poet: Anna Woodford
Language:  English
'Work' is both a hand-drawn animation and a photographic study put together in a dark archive store room. It seeks to explore the ways memory can fragment, disrupt and overlay the present and creates a space for the haunting poem by Anna Woodford to unfold.
Kate Sweeney is an artist producing work that incorporates documentary, photography, drawing, video and animation. She is interested in video-making as collage and a tool for transformation and translation of materials and stories. Kate has taught Fine Art, Animation and lectured in poetry-film. She is currently doing a fully funded practice-led PhD at Newcastle University.
TANIEL

England/Armenia 2018 | 19:59 min.
Director: Garo Berberian
Poet: Taniel Varoujan
Language: Armenian with English subtitles

Film Noir images, prophetic verse, and narration by Sean Bean tell the story of Taniel Varoujan, one of the most majestic poets of the 20th century. At the age of 31, he was lost under the vast shadow of the murder of a race, in what became known as the Armenian Genocide.

Garo Berberian was born in Chiswick, London, and graduated from Berkshire School of Art and Design with a merit in Photography. He then moved into Broadcast Television, rising up through the ranks from editor to director, working on numerous award-winning television, documentary, commercial and viral campaigns. His first short  "Return of the Tyke", was awarded at the 2014 ARPA film festival Los Angeles. His new short "Taniel" looks at the last months of poet Taniel Varoujan's life. "Taniel" has won 2 awards and had 5 screenings in Armenia and in the Armenian Genocide Museum-Institute. The film was also screened in Australia at AFFSydney, Mark Kermode's Screenplay Film Festival, DC Shorts Washington and Pomegranate International Film Festival in Toronto.
 
AMINAH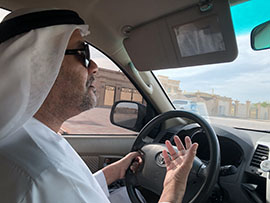 United Arabian Emirates/USA 2019 | 13:12 min.
Director: Becky Beamer
Poet: Ahmad al Assam
Language: English
Aminah is a dialog between a poet, a critic, and an emirate. It is an experimental biography of poet Ahmad al Assam. Ride along with Ahmad al Assam as he shares the intimate spaces around Ras Al Khaimah, UAE that have inspired his discourse on family, loss, love, and country.  The poet shares his stories in verse and prose. Aminah is the latest documentary short film from artist Becky Beamer.
Becky Beamer is an award winning documentary filmmaker, book artist, and Fulbright Fellow. Her specialty is international humanitarian storytelling that encourages public discourse on personal identity and cultural preservation. For over 15 years Ms. Beamer worked on documentary television for companies including National Geographic, Smithsonian, Discovery, and PBS. She received her BFA from Pratt Institute and a MFA from the University of Alabama. Currently, she is an Assistant Professor at the American University of Sharjah in the Department of Art & Design.  www.beckybeamer.com.
PHOSPHENES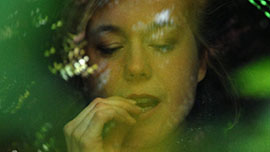 Belgium 2018 | 8:39 min.
Director: Franck Ravel (Belgium/France)
Poet: Franck Ravel
Language: English
 
« When I woke up, the alarm clock showed nine thirteen. I looked at the white and blue flowers in the vase. I stayed like that long. And all at once… I smelt your perfume.» When Irvin remembers these few days of December with Tess, a distant cousin, memories turns into a hypnotic stroll through the layers of unconscious.
Franck Ravel is born in France in 1971. In early nineties he studied metal sculpture in Paris, at Applied Arts where he also discovered experimental cinema. He started on various productions as a production designer then trained on postproduction tools and became editor and VFX artist. During years 2000 he improved his skills in the treatment of color and light and became colorist for more than 70 features. He is actually writing a fiction project and has achieved his first movie « Phosphènes » in September 2018.
LEAVES OF CITY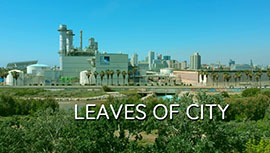 Spain  2018 | 6 min.
Director: Carles Pamies
Poet: Walt Whitman
Language: English
Listen, watch the City and the words by Walt Whitman about the city, the men and life and death WALT WHITMAN's poems over the edge of Nature and City. The City as the main concern: What Whitman tries in Leaves of Grass is the dissolution of the separation between man and the world, the individual and his external world in a single flash: the self amalgamating in the collective.
Carles Pamies studied sciences of information. He alternates the most sordid television programs in all the Spanish networks during the last 25 years with his own video creations. He obtains some literary minor awards in poetry. Tries to engage the video art society with his own perspective, unsuccessfully.
THE RIGTH TO FALL APART  (winner Poetry Film Award Weimar)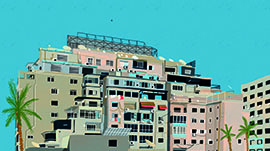 Germany/Egypt  2019 | 3:50
Director: Rika Tarigan
Poet: Yara Mamdouh Ahmed
Language: Arabic with English subtitles
A film that attempts to depict the struggles of a body encumbered with depression and anxiety. It explores how we navigate the heaviness of emotional and mental distress. Burdened by intensities, the protagonist tries to escape to an imagined haven of words, language and images.
One day when she was a baby, Rika's crib fell apart. As her parents were looking for her in panic, they found a big snake surrounding her while Rika was peacefully sleeping. Years after that strange day, her mom swore that it's the curse of the rice-field snake, that made Rika choose the art path. Recently, she moved and creates animation at the Bauhaus-University Weimar. She hasn't seen any snake for a while.

HIATUS (winner Poetry Film Award Weimar)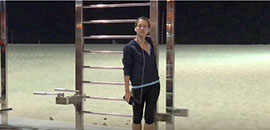 Brazil   2018 | 6:20 min.
Director: Vivian Ostrovsky
Poet: Clarice Lispector
Language: Portuguese with English subtitles                           
«With Hiatus, Vivian Ostrovsky reincarnates the spirit of the Ukraininan-Brazilian writer Clarice Lispector, by creating a short cine-portrait. A beautiful free-form collage accompanies the words of Lispector, in which Ostrovsky also draws parallels to her own personal trajectory as an artist. With the shortness and intensity of this essay, Ostrovsky utilizes a quote from Lispector's last interview as a guiding principle – Being asked what is the role of a contemporary writer today she replied "To speak as little as possible!"
Vivian Ostrovsky, born in NY (USA). Attended high school in Rio de Janeiro before studying Psychology and Cinema at the Sorbonne University in Paris. Her activities began with her involvement in women's cinema for which she organized international film festivals and subsequently founded Cine-Femmes International, through which she distributed films by women around Europe. She ceased this activity in 1980 when she began making her own films, but continued being active as film curator and programmer for international film festivals such as Jerusalem. Her films explore the theme of transit and can be described, according to Yann BEAUVAIS between 'film journal ' and 'film collages'. https://vivianostrovsky.com/
Tickets can be ordered via the ticket service of the Metro Kinokulturhaus. Phone +43 1 512 18 03 MO–FR from 17:00–21:00 SA/SO from 15:00–21:00 - after Oct 3, 2019 daily from 14:00–21:00 or mailto:reservierung@filmarchiv.at. Reduced ticket special for school boys/apprentices/students 5 Euro. Normal ticket price 8,5 Euro. All other price reductions of the Metro Kino Kulturhauses are applicable.